The Samui control room is 9.2 x 7.6 meters with a 5-6.5 meter tall peak ceiling, able to give a reasonably smooth response down to 17-19 hz, Well below most grand pianos, contra-basses and kick drums. This room is also tuned inverse to the big space, so the natural acoustic effects of one space are monitored inverse in the other, and so complement each other in the recording / micing process and later in final mix down.
We completely designed our studio on Koh Samui to be the best possible studio for capturing high quality recordings. Our main space is 15 meters x 12 meters in a ratio similar to Boston and Vienna's symphony halls; all time classic designs for acoustic recording spaces and this proven space ratio is under a 7-9 meter peaked ceiling.
Inside are several differently shaped isolation booths along the walls. Leaving the central space open as it rise towards the ceiling but with many diffusing reflections. All booths are aimed to have good sight lines, while having a variety of available acoustic room sounds to choose from.
And this isn't a 'mushroom farm' dark basement. No one gets a gray, pasty 'studio tan' here. The main space has a 12 meter wide x 6 meter tall arcing glass wall, looking out across the palm trees at the Bay of Siam and 'The 5 islands' due south of Samui island. A truly relaxing and inspiring view with a sense of natural, green, tropical splendor.
The monitoring space is large enough to accurately reproduce bass notes, and not smear those low notes into a rumbling roar that confuses the ears and fools you into bad mixing.We have designed absorbsion, redirection and diffusion to give a more accurate sounding work space.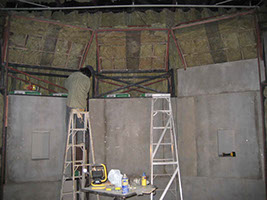 The control room is purpose designed for 5.1 surround video and film post production mixing as well as traditional stereo music production. It is also possible to do acoustic instrument recording in the control room with headphones, because there is enough liveness to sound sweet, and yet not confuse the monitoring of program under typical monitoring use.
Our house engineer has been recording since before 'stereo' and before transistors were common; 2 mics, into 2 tube channels, live.
Back then you just had to do it right in the recording and the performance. In the worlds of jazz, classsical and country/bluegrass musics this is not a lost art, but is less common in the pop context.
In recent times, multi track and computer production has added greater flexibility,
but the 'OLD' ways still give a potentially a great sound, as they did in the classic days of recording.
Those methods should not be lost in the mists of post digital time.This studio facility is designed
with these classic ways in mind, as well as making use of the modern ways, means and styles.
Providing good service to the song, and it's creator, means taking the time to listen. What do you want to sound like? Every act is different. But every act has somethings that influenced them to get where they are now. We can listen to your descriptions, and your performance amp, synth, horn & vocal tones, and also listen to CDs of your influences, and together they can help mold your sound toward your tastes.
Not every fantasy tone is attainable, but we can take the BEST you can do and make it really SING.