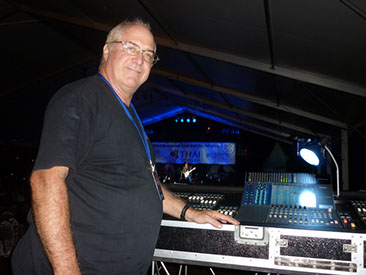 Our director of services is David DONALD.
Recording engineer/producer, arranger, composer, multi-instrumentalist, video editor, cameraman and 3D animation designer. With more than 40 years of audio recording production experience.
Originally from Boston, but with recording, shooting and editing time in New York City, Paris, Nimes France and now Thailand, David has worked in most of the musical genres; from free improvisational jazz to rigidly stylistic, or traditional and ethnic forms. Electric and acoustic or hybrids of both.
Your hostess is "Chacha" Donald, an always smiling and cheerful presence and aide to your comfort during sessions.
Mixing Front Of House sound at
Phuket International Blues Rock Festival
We also have a rotating cast of available side musicians, from traditional Thai instrumentalists, to western players of high levels, on several different instruments.
And for video projects we can contract experienced cameramen, art designers, make-up and line producers, props, directors and lighting personnel at various budget levels.